Birthdays
| | |
| --- | --- |
| Brandon Bersuder | November 1st |
| Steve Price | November 1st |
| Blake Kelly | November 5th |
| Nathan Doherty | November 12th |
| Jeff Witteborg | November 15th |
---
Anniversaries
| | |
| --- | --- |
| Nick Rosenberg | 13 Years |
| Paige Reh | 11 Years |
| Cheyenne Meredith | 1 Year |
---
New Hires
| | | |
| --- | --- | --- |
| Mike Johnson | Inside Sales Account Manager | Remote, South Carolina |
| William Brauner | Accounts Receivable | Louisville HQ |
---
Job Openings
A/V and Low Voltage
Operations
Refer a candidate and you are eligible for a $500 employee referral bonus after successful completion of their first ninety (90) days!
---
Employee Give Back
Special shoutout to Josh Ballard, Scott Ballard, and former Director of Services, Fred Devoid. These three individuals gave up their time and talent along with financial contributions to help aid an employee in need. With Vernon Clark's cancer battle, he has recently become unable to lift his legs into a normal shower and bath combo. Thanks to the efforts of Josh, Scott, and Fred, he will not have to as they built him a brand-new walk-in shower.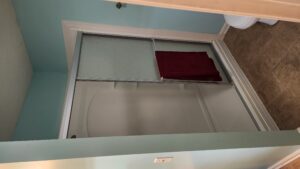 ---
Upcoming Holidays, Events, & Community Outreach
11/1 Dia De Los Muertos – Is a Mexican holiday where families welcome back the souls of their deceased relatives for a brief reunion that includes foods, drinks, and celebration. Ofrendas can be decorated with candles, bright marigolds, and your loved one's favorite snacks.
11/3 Japanese Culture Day – This national event is celebrated to pay respects to the traditional Japanese culture and to promote the notion of peace and freedom that is declared in the constitution of Japan.
11/5 Day-light Savings Time Ends – As Cher said, "If I could turn back time"…. Well, you can today! Don't forget!!!
11/7 Election Day – Every Vote Counts! We strongly encourage all employees to get out and vote as it is an integral part of our community. In most cases, you should have sufficient time outside working hours to vote. If for any reason you think this won't be the case, contact your supervisor or HR to discuss scheduling accommodations.
11/9 Louisville Team Building @ Dave & Busters – Our offices will be closing early to support our team building event from 2-5pm. Please RSVP to hr_strategic@yourstrategic.com by 10/27. Appetizers and soft drinks will be provided! A reminder email will be sent the last week of October to confirm final headcount. #GameOn
11/10 Veterans Day – As a reminder, our offices will be closed on Friday (11/10) in observance of Veterans Day. This day honors the sacrifices of the United States Armed Forces and all who have served our country.Thank you for your sacrifices. God bless America and keep us united.
11/17 Thanksgiving Potluck – Louisville Staff – May we all come together to give thanks for our many blessings. Strategic will provide meat entrees but please sign up to bring your favorite side, dessert, or other dish. https://www.signupgenius.com/go/30E0C48A9A82CA2FC1-45217404-thanksgiving
11/23 & 11/24 Thanksgiving Holidays – As a reminder the office will be closed on Thursday and Friday. Please enjoy spending time with your friends and family & give thanks.
11/25 Small Business Saturday – A day to celebrate and support small businesses and all they do for their communities. This year, we know that small businesses need our support more than ever as they navigate, retool and pivot from effects of the coronavirus pandemic. Please join SBA and organizations across the country in supporting your local small businesses by shopping at a small business.
---
Inspirational Quote of The Month
"The weak can never forgive. Forgiveness is the attribute of the strong."

Mahatma Gandhi
---
Employees of the Month
Kirby Fiscus – Kirby has recently stepped up to train our new A/P hire, Jordan. He has shown leadership and is always willing to help others. Kirby is quiet but can be counted on to see a task through and it's never a question of whether he can be depended on.
Crystal Newman – Even with Crystal's incredible situation, she has stood up for the Sales team and we are forever grateful. This has been one of the busiest Federal buying seasons for me personally and there is absolutely no way I could have accomplished what I did without her support.
Josh Ballard – I have always admired how dedicated Josh is! He has been the only engineer for years and you would never be able to tell because his work is pristine and spotless. Josh knows a lot of things – which makes him invaluable. From the day I started here at the home office, I have been impressed with the things Josh does. Being approachable is a wonderful quality he possesses…thank you for everything you have always done to keep Strategic the best place to be.
For a personal spotlight on each of this month's Employees of the Month click the button below