Government, Education and Enterprise Agencies Transition Employees Back into the Office by Adopting Hybrid Workspaces and Collaboration.
Government, education and enterprise agencies have spent millions upon millions of dollars adapting to remote / hybrid workspaces and distance learning trends brought on by the COVID-19 pandemic. For many, lack of technology infrastructure was the largest hurdle in getting their organizations online and back on track. Many pivoted to 3rd party e-commerce solutions, while others moved quickly to take up web conferencing software in hopes of weathering the pandemic.
For enterprise, remote work has provided a hopeful avenue for staying connected and productive. Companies have invested heavily into cloud infrastructure, unified collaboration platforms, virtual desktop infrastructures, and enhanced audio-visual hardware after discovering yielded results from industry use cases. According to an 2020 article written by the Society for Human Resource Management (SHRM), employee productivity has stayed very consistent in companies adopting a work-from-home approach. To add, a recent study from Bloomberg finds remote work initiatives have produced a "5% productivity boost" in the post-pandemic economy. The results have influenced many agencies to go forward with a hybrid schedule beyond the post-pandemic world.
Varying levels of immunity and modes of work have given way to the trend that hybrid workspaces will welcome us back to the office.
What does a Hybrid Offices & Classrooms look like?
Hybrid Work Spaces bridge the gap between in-office staff and remote employee interactions through a variety of technologically equipped spaces. They are typically modular, open, and integrated with the latest collaboration technology.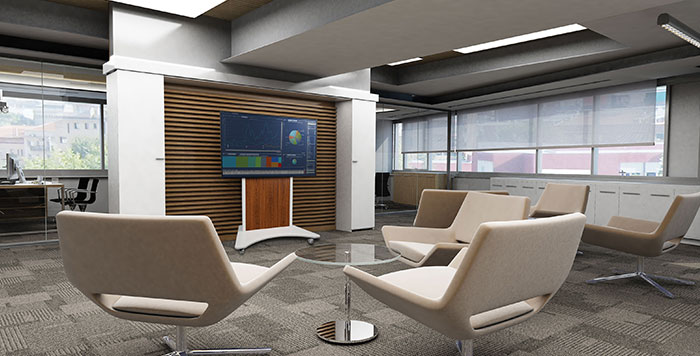 Flexible Meeting Spaces
With fewer closed spaces and seating options resulting from COVID-19, flexible meeting spaces for the employee's on a hybrid schedule will become a staple.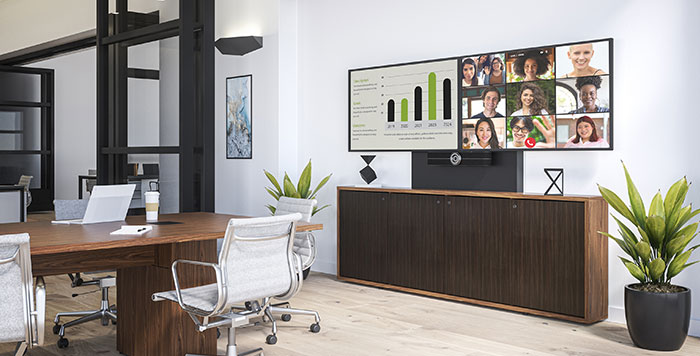 Huddle Rooms
Huddle spaces are always in need. They provide a great space for scheduled and impromptu collaboration. Less space and the need for the distance between people influences uasge of collaboration technology.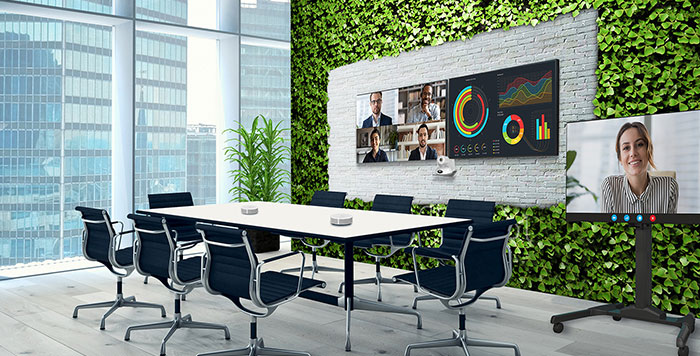 Technology for Hybrid Collaboration
Ceiling microphones, conferencing cameras, and more one-touch control panels help make up the ultimate virtual boardroom. In order to bridge the gap between office and home, collaboration should be used at its fullest extent.